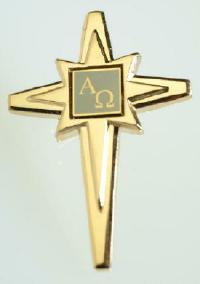 The Enduring Word Tablet™ is featured on two new pieces of jewelry, now available through Timeless Traditions: the Life of Christ Cross Pendant and the Life of Christ Cross Lapel Pin. (The Enduring Word Tablet is also featured in the design of the The Passion of The Christ™ Tear Bottle that you can also read about on this website.) The beautiful new pendant and pin are a unique and personal way for your customers to carry the Word of God close to their hearts. They are meaningful gifts for anyone who appreciates the the Bible and wishes to help spread Christ's timeless message.
The design of the Life of Christ Cross is inspired by the theme of the gospels -- the chronicle of Christ's time on earth as man. The Tablet is nestled in the center of the Star of Bethlehem atop an elegant cross. New Testament scripture telling the story of Christ's earthly life and eternal lessons lies within these symbols of His nativity and crucifixion. Both the stunning  pendant and lapel pin feature the Enduring Word Tablet. On this small square tablet, the entire text of the New Testament (180,345 words, over 1,000,000 letters) is inscribed in 24K gold. Guinness World Records™ has certified the Enduring Word Tablet as the smallest Bible on earth.

"A Small Miracle" The Smallest Bible in the World
On the Enduring Word Tablet, the Greek letters Alpha and Omega shimmer above the New Testament to serve as reminders of Christ's message: "I am the Alpha and Omega, the beginning and the end, the first and the last" (Revelation 22:13).

Shown under increasing magnification, images of the Enduring Word Tablet depict the actual lines of the New Testament. Photos of the Life of Christ pendant and pin and the Enduring Word Tablet © 2004 Inscript®.
The following 3 gift items, available from Timeless Traditions, feature the Enduring Word Tablet.
The Passion of The Christ™ Tear Bottle

This beautiful tear bottle symbolizes Christ's triumph over death and his promise for our future. It is a meaningful gift for Christian audiences and for anyone interested in symbolic gifts of forgiveness and hope. Packaged with a gold organza gift bag and 2 special story cards pertaining to the tear bottle and the Enduring Word Tablet.
Item# PB-01 Shiny Gold Finish
Item# PB-02 Antiqued Gold Finish

"Life of Christ Cross"
Pendant™

This stunning pendant is available in 2 versions: Gold Plate and (a more expensive) 14K gold. A perfect gift for Christian audiences and all those who wish to keep the Bible close to their hearts. Packaged in a small black velvet pouch with a color brochure. (A necklace chain is not included.)
Item# LOC-Pendant Gold-Plated
Item# LOC-Pendant 14K Gold

"Life of Christ Cross"
Pin™

This classic lapel pin is available in gold plate only. A thoughtful gift for members of the clergy - many people purchase them for pastor appreciation month. A tasteful gift for men and women alike. Packaged in a black velvet pouch with a color brochure explaining the details of the Enduring Word Tablet and the inspiration behind the design of the Life of Christ Cross.
Item# LOC-Pin Gold Plated